---
Just when I was about to publish this story on Monday, an absolutely startling story broke that not only proved the point of this story but implored me to add another important segment to it as a top Health and Human Services official working for President Trump has warned of 'left wing hit squads' being trained across America to carry out an armed insurrection should President Trump win the election.
(Article by Stefan Stanford republished from AllNewsPipeline.com)
With the mainstream media immediately jumping on that story and claiming it was 'fake news', giving us every indication that it is 'true news' with the MSM's track record of outright lying to the American people over the past several decades, Americans should make no mistake about it, the 'globalist/democrat enemies of America within' would NEVER EVER tell us if they were about to launch an 'extermination campaign' against the American people.
And with Michael Caputo asserting in a recent video on his personal Facebook page that CDC scientists were engaged in "sedition" with a "resistance unit" against President Trump while adding that left-wing "hit squads were being trained all over this country" and they "were preparing an armed insurrection after the election", Caputo asserting "You understand that they're going to have to kill me, and unfortunately, I think that's where this is going" helps to underscore the dire direction that America is now headed, with the Daily Mail story specifically calling out those 'enemies of America within' as the 'deep state'.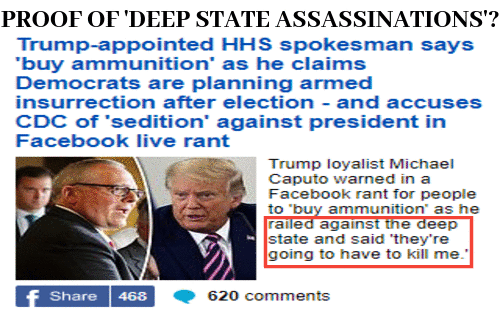 In 
this incredibly important recent story by Paul Craig Roberts
, the former United States Assistant Secretary of the Treasury for Economic Policy under President Ronald Reagan, Roberts warns the United States & our Constitution have only two months left with US Generals and the CIA now saying the same thing about President Donald Trump that they said about John F. Kennedy, soon before he was assassinated.
With no US Generals nor the CIA/deep state apparatus ever being held responsible for 'taking down' America's 35th President, and thus setting a precedent for any 'US military/deep state' assassination of President Trump in 2020 or 2021, as Roberts warns, what devils such as former Secretary of Defense, General James Mattis, and Trump's Director of National Intelligence, Dan Coats, REALLY mean when they spoke together about taking "collective action  to remove President Trump from office" is that President Trump was dangerous to their budgets and their goal of endless, nonstop war and bloodshed planetwide.
With Roberts also warning within his story that the upcoming November 'election' will not be an 'election' at all but a 'color revolution', this eerily precise new SQalert from Steve Quayle's website warns that America and the world are about ready to enter the darkest hour/time that the world has EVER known, making "the Dark Ages" seem mild in comparison.
Warning within that alert that the globalists are clearly preparing for a worldwide take down, with the 'medical tyranny' that's now happening in Australia, New Zealand, Canada and other Western nations a warning to us all, as Paul Craig Roberts warns within his story, all of this happening to America right now has been well planned out in advance by the same 'deep state/mainstream media apparatus' at war with President Trump.
We have reached the point in the demise of our country that a simple statement of obvious truth is not believable. 
As a number of carefully researched and documented books, some written by insiders, have proved conclusively, the CIA has controlled the prestige American media since 1950. The American media does not provide news. It provides the Deep State's explanations of events. This ensures that real news does not interfere with the agenda. 
To be clear, there are two CIA organizations. One is an agency that monitors world events and endeavors to provide more or less accurate information to policymakers. The other is a covert operations agency. This agency assassinates people, including an American president, and overthrows uncooperative governments. President Truman publicly stated after he was out of office that he made a serious mistake in permitting the covert operations branch of the CIA. He said that it was an unaccountable government in inself. 
President Eisenhower agreed and in his last address to the American people warned of the growing unaccountable power of the military/security complex. 
President Kennedy realized the threat and said he was going "to break the CIA into a thousand pieces," but they killed him first. 
It would be easy for the CIA to kill Trump, but the "lone assassin" has been used too many times to be believable. It is easier to overthrow Trump's reelection with false accusations as the CIA controlls the American and European media and has many Internet sites pretending to be dissident, a claim that fools insouciant Americans. Indeed, it is the leftwing that the CIA owns. The rightwing goes along because they think it is patriotic to support the military/security complex. 
After the CIA overthrows Trump, they will use Antifa, Black Lives Matter, and their presstitutes to foment race war. Then the CIA will ride in on the Pale Horse, and the population will submit. 
The scenario is unfolding as I write. Very few will believe it until it happens. Even then the CIA's ability to control explanations will keep the population in hand. 
In America today, liars have more credibility than truth tellers. 
Yet while Roberts 'predicts' the US population will simply 'submit' should the deep state carry out a coup, and he could very well be correct, the USA is quite unlike Australia, New Zealand, Canada and the UK in that America still has the 2nd Amendment (unless Joe Biden gets his way – more on that in the next section below) and tens of millions of very well armed and wide-awake Patriots.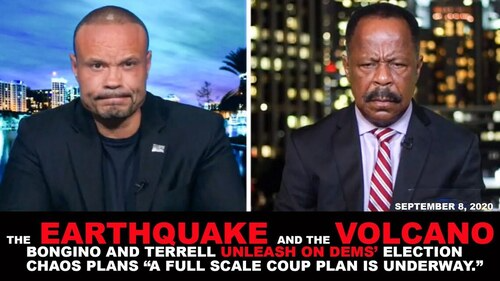 With 
leftist terrorists once again attacking police officers
 in America, this time in Los Angeles, Joe Biden wasted no time at all by condemning guns and the 2nd Amendment in America, rather than the leftist terrorist who carried out the crime. Just the latest sign that if Joe Biden and Kamala Harris win in November, they'll immediately go after the 2nd Amendment and the rights of Americans to defend ourselves against leftist terrorism, Conservative black political commentator 
Candice Owens had a more realistic and balanced view
 of the events unfolding across America, pushed on by BLM.
Read more at: AllNewsPipeline.com
Submit a correction >>